After deciding to settle down abroad, there would be a lot of things to be prepared. Moving belongings is an important part.
We would like to introduce the following useful procedure.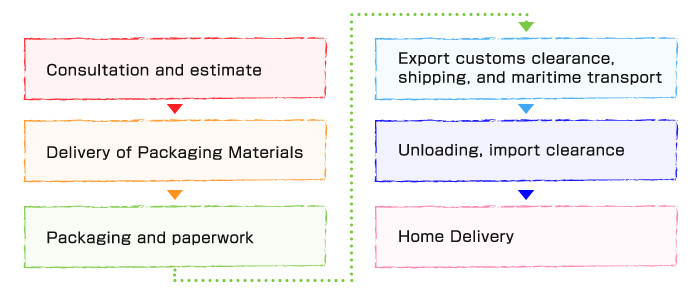 Consultation and estimate service is provided from one month before the moving date through internet, telephone or personal visits even to a remote place to save time and money.

This service is absolutely free even if small amount of cargo.

Big items (furniture, electrical appliances, commercial cargo etc) are normally estimated by personal visits and small items by telephone and internet.

If the estimates and the actual contents of the cargo are not different, no additional charges incurred.

In case that moving items are not decided yet, approximate amount will be given first. And later after packing, exact amount will be calculated.

The costs are based on volume for sea cargo, and volume and weight for air cargo. The transport charges are calculated by this basis.

After completion of estimates, 10% of the estimated amount will be deposited as a down payment.

Special packing materials, boxes and tapes will be delivered in advance for overseas moving.
Box

S

M

L

XL

Size

38×25×34
51×41×40
66×42×45
60×60×65

Weight

15~20kg
15~20kg
20~30kg
30~40kg

Purpose

books
Kitchen utensils
Clothing
sundries
tableware etc.
Futon
toy
Bulky
toy
sundries etc.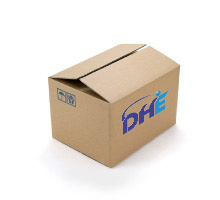 ・Packing


Before packing started, separation of sending items abroad and leaving ones at home will be helpful. especially valuable items, documents and clothes are recommended to be packed in advance.
lf you don't have time to be ready for departure, tell us about the separation on that day. Our professional staff will securely pack each item.
Fragile objects (photos, pictures, toys, etc) and outsized ones (furniture, electrical appliances, etc) that do not fit for the box will be packed and safely transported by our experts.



・Paperwork


To prevent loss of luggage, while packing, all the items will be checked, numbered and listed on the packing list.
After packing completion, the required clearance documents (passport copy, e-ticket, authorization letter, etc) will be submitted to the company staff. and a copy of packing list will be given to the cargo owner after checking the items.



・Transportation, insurance,


The company will do its best effort to deliver the cargo to the destination safely. However, during the long-distance international transport, safety can not be guaranteed all the time so that we recommend to have a full insurance.

The cargo is transferred to the bonded warehouse and export customs clearance procedures are in progress.
The clearance documents are submitted to the customs office and the permit for the removing freight transport is issued. And then the permitted cargo is loaded to a container for the destination.

The container arrived at the destination port is unloaded and stored in a bonded warehouse. A report for the removing freight is made to the customs and the import permit is issued.
Normally private moving items are duty free but in rare case the tax is imposed depending on goods condition and country. Please contact us in advance.

The cargo is safely delivered to the appointed place on the promised date by our staff.