China unlike other countries imposes customs tax to import moving cargo.
The tax is imposed mainly on electronics, furniture and foods. And shippers need attention to send lots of foods and books to China.
There is a limit line for importing books according to the family numbers. It is better not to cross 1,500 books.
It is better for foods to be packed less than 50kg, and milk powder 5kg.
Books and commercial goods should be packed separately, not mixed with others.
When the ship is arrived at the port, the cargo is unloaded from the container and then customs clearance will proceed.
Customs clearance takes approximately 2 to 3 days, if quarantine and inspection needed, the clearance will be delayed.
After clearance, the cargo will be delivered to the destination. The transportation will take 1 to 7 days depending on the region.

To be treated as an overseas moving cargo, the shipper should be arrived at the local country within 6 months.
The cargo can be stored at the customs warehouse up to 6 months due to delay of deciding residence in China.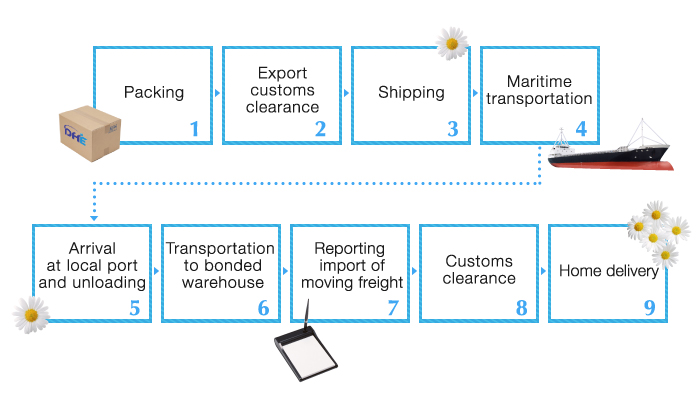 1. Chinese ... passport, visa
2. Foreigner ... passport, visa, work permit

Box
S
M
L
XL
Size(cm)
38x25x34
51x41x40
66x42x45
60x60x65
Weight(kg)
10kg ~ 15kg
15kg ~ 20kg
25kg ~ 30kg
30kg ~ 40kg
Contents
Books, heavy object
Clothes, dishes?
shoes, others
Blankets, toys, etc.,?
light objects.
blankets,?
small furniture, etc.
Unit cost
\3,000
\5,000
\7,000
\9,000
※ large cargo (refrigerator, furniture, bed, etc.) which does not enter the box will be estimated by visiting.?
※ Actual transportation cost will be charged to the suburbs of Tokyo, the region of more than 30km from Osaka.
※ For short-term residence customers, we will proceed after consulting.
※ Customs fee in Japan is \ 5,900.

For the damage and lose of the cargo, shipping insurance is recommended to insure the coverage.
The amount of insurance is slightly different depending on the type of cargo, but 2% of the amount insured will cover 110% of charges.
The cargo owner will determine the amount of insurance and the minimum amount of insurance is 3,000 Yen. Taking insurance is only possible for the items which cost over 1,000 dollars by accompanying a certified appraisal.
Normally for the damage and loss of uninsured items can not be compensated but compensation and repairing cost will be given within 10% of moving cost as an operator's responsibility.

TEL:8621-31265000-806
FAX:8621-58767360-818
Manager : Ja Son
address : 14C, Building 2, PeakwayTower, Lane600,?Tianshan Road, Shanghai, 200051, China

CBM
Dalian
Tianjin
Qingdao
Shanghai
Fuzhou
Guangzhou
Hongkong
1CBM
M 8 / S 4
¥63,400
¥62,900
¥62,900
¥62,900
¥63,900
¥63,900
¥63,900
1.5CBM
M 10 / S 10
¥91,400
¥90,900
¥90,900
¥90,900
¥91,900
¥91,900
¥91,900
2CBM
M 15 / S 10
¥146,400
¥145,900
¥145,900
¥145,900
¥146,900
¥146,900
¥146,900
2.5CBM
M 20 / S 10
¥171,400
¥170,900
¥170,900
¥170,900
¥171,900
¥171,900
¥171,900
3CBM
M 20 / S 20
¥201,400
¥200,900
¥200,900
¥200,900
¥201,900
¥201,900
¥201,900
※ Customs tax, insurance, inspection fees are not included.?
※ The above amounts are DOOR TO PORT price.