South Korea is the voltage of 220V, Electrical appliances need a transformer when using. TVs in Japan are different from Korea in the receiving scheme so that, by using the cable TV or a Korean DVD player, viewing is possible without any problems.
Korean who is staying abroad for more than two years and going back to Korea for the purpose of residing in Korea is subject to moving cargo clearance condition.
In case of unexpected returning earlier, Korean who has stayed more than 1 year, possesses another country`s permanent residence visa or is willing to stay more than 2 years in Korea for studying or working is also subject to moving cargo clearance condition.
The cargo for the owner who stays less than 1 year will be treated as checked luggage.
In order to be recognized as imported moving cargo for separate sending items, the cargo should be arrived within 6 months before the entry date of cargo owner. And the cargo can be stored for up to 6 months at the customs bonded warehouse in case of the delay of residence determination.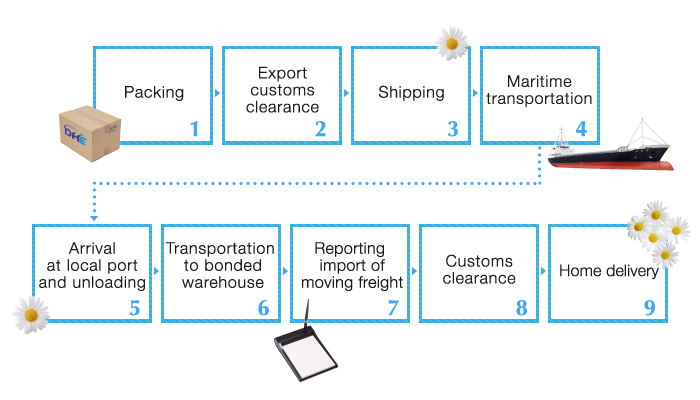 The cargo delivery time to your local home is approximately three weeks but the delivery date may be changed due to shipping company's schedule changes, natural disasters and long holidays.
Customs clearance documents in Japan

 ・

Passport copy, e-Ticket copy
Customs clearance documents in Korea

In case that the cargo owner goes in person to the customs

 ・ passport

In case that the agency does the customs clearance

 ・ Passport copy
 ・ Certificate of immigration
 ・ Customs Documents
 ・ Foreigner – foreigner's Registration Card
Koreans who has permanent residence visa of Japan is required additional documents.
(ex, documents which verify residency period in Japan - certificate of Employment, School certificate, lease agreement, etc)


Costs from the packing place in Japan to the local customs in South Korea
| Packing type | S | M | L | XL |
| --- | --- | --- | --- | --- |
| Size (cm) | 38x25x34 | 51x41x40 | 66x42x45 | 60x60x65 |
| Weight (kg) | 10kg ~ 15kg | 15kg ~ 20kg | 25kg ~ 30kg | 30kg ~ 40kg |
| contents | books, heavy items | clothes, kitchen utensils, shoes, other goods | Blankets, toys, light items | Blankets, small furniture |
| Unit cost | ¥2,000 | ¥4,000 | ¥6,000 | ¥8,000 |
※ consumption tax included
※For the items which does not fix in a box (ex, big furniture, electric appliances, etc.), the company staff will visit in person to estimate and pack.
※Actual transportation cost for the long distance area which is more than 30 km radius from the center of Tokyo or Osaka will be charged.
※Cargos for the short-term stayer will be treated after consultation.
※The customs clearance cost in Japan is 5,900 yen.

Customs clearance and delivery cost in Korea (S.M box and Incheon customs basis)
| Customs clearance costs | Area 1 | Area 2 | Area 3 | Area 4 | Area 5 |
| --- | --- | --- | --- | --- | --- |
| ¥9,000~ | ¥500~¥800 | ¥600~¥900 | ¥700~¥1,000 | ¥800~¥1,100 | ¥2,000 |
| +100 Yen/Box (warehouse cost) | Seoul, Incheon, Kyonggi, Bucheon | Kyonggi(west), Ilsan, Suwon | Daejeon, Chungchong-do, Kangwon(west) | Jeonla-do, Kyongsang-do, Kangwon-do | Jeju-do |
※ tax
※ The agency will proceed the customs clearance in Korea.
※ Upon arrival of the cargo at customs, the staff in Korea office will contact the shipper to determine the schedule.
※ Big furniture and heavy items will be unpacked and arranged.
※ Local costs will occur when using a ladder truck for more than 4 CBM cargo.

For the damage and lose of the cargo, shipping insurance is recommended to insure the coverage.
The amount of insurance is slightly different depending on the type of cargo, but 2% of the amount insured will cover 110% of charges.
The cargo owner will determine the amount of insurance and the minimum amount of insurance is 3,000 Yen. Taking insurance is only possible for the items which cost over 1,000 dollars by accompanying a certified appraisal.
Normally for the damage and loss of uninsured items can not be compensated but compensation and repairing cost will be given within 10% of moving cost as an operator's responsibility.

TEL:032-891-0057
FAX:032-891-0058
Person in charge:Seo Kyongtae
Address:306 Seongjin Building, 373-4 Hapjung Mapo-gu Seoul

CBM
SEOUL
INCHON
ILSAN
SUWON
DAEJEON
WONJU
JEONJU
DAEGU
PUSAN
KWANGJU
JEJUDO
1CBM
M 8 / S 4
¥65,700
¥67,100
¥68,500
¥69,900
¥71,300
¥82,500
1.5CBM
M 10 / S 10
¥92,900
¥94,900
¥96,900
¥98,900
¥101,900
¥117,900
2CBM
M 15 / S 10
¥117,400
¥119,900
¥122,400
¥124,900
¥127,400
¥147,400
2.5CBM
M 20 / S 10
¥141,900
¥144,900
¥147,900
¥150,900
¥153,900
¥177,900
3CBM
M 20 / S 20
¥166,400
¥168,900
¥171,400
¥173,900
¥176,400
¥204,400
DOOR TO DOOR
service is provided from current home to the place in Korea by ship.
First, the box will be sent by courier. Upon packing completed by shipper, the company staff will visit. ..
To provide low-cost rates, we use courier service instead of visiting in person for the long distance and the courier fee is ours.